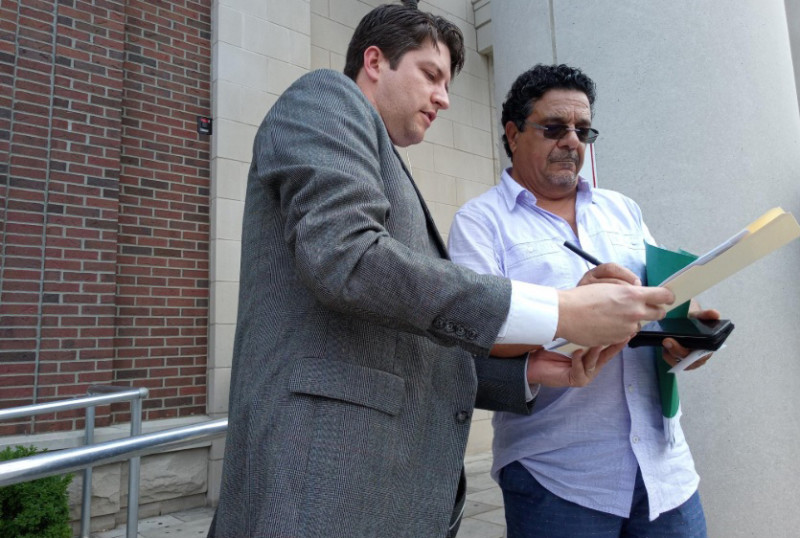 ABOVE: Attorney Nathaniel Green, acting as substitute co-trustee, works with Amir Karshenas after the Ovation property was auctioned on the courthouse steps. // MATT BLOIS
By MATT BLOIS
A man who said he represented a Middle Eastern developer won a foreclosure auction for a large piece of the Ovation property in Cool Springs with a $42 million bid.
Amir Karshenas entered the winning bid on the steps of the Williamson County courthouse on Friday afternoon. However, he said he's not sure whether the developer he represents will close the deal in time.
According to the terms of the sale, the winner of the auction has to close the deal by the end of the day. If the developer Karshenas represents can't close the deal then the lenders will become the owners of the land for the next highest bid of $40.5 million.
Karshenas told lawyers conducting the auction he was with American Bonding, a bail bonding company based in Nashville. He told Business Williamson he did research in medicine at Vanderbilt and is involved with international pharmaceuticals.
The property up for auction was a 34-acre piece of land at the intersection of Carothers Parkway and McEwen Drive. The current developer, Ovation Thomas, LLC, still owns a neighboring 42-acre property that remains undeveloped.
The starting bid from the lender was $35 million, which is how much the current owner Ovation Thomas, LLC, a Georgia development company operated by Stan Thomas, owes on the loan. The property went up for auction after the Thomas' company defaulted on a loan.
Thomas' company narrowly avoided foreclosure in May 2017 by filing for bankruptcy. The company came out of bankruptcy in August 2017 on the condition that the company pay back a $27 million loan.
According to the Nashville Business Journal, Thomas was able to repay that loan by a November 2 deadline.
Karshenas claimed the investor he represented didn't know about the deal yet, and even said that he didn't know about the auction until he walked up to the courthouse at noon.
"Do you think it's worth that?" he asked a Business Williamson reporter when the lender entered the initial bid of $35 million.
Whether or not Karshenas knew about the auction ahead of time, he entered the highest bid. Several local developers were present at the auction, but only the lender and Karshenas entered bids for the property.
Following the auction, several developers — including a lawyer representing Highwoods Properties which is developing another large chunk of Ovation — talked to Karshenas about working together on the project.
This is a developing story. The sale has yet to close. Check Business Williamson at close of business for an update on the sale.