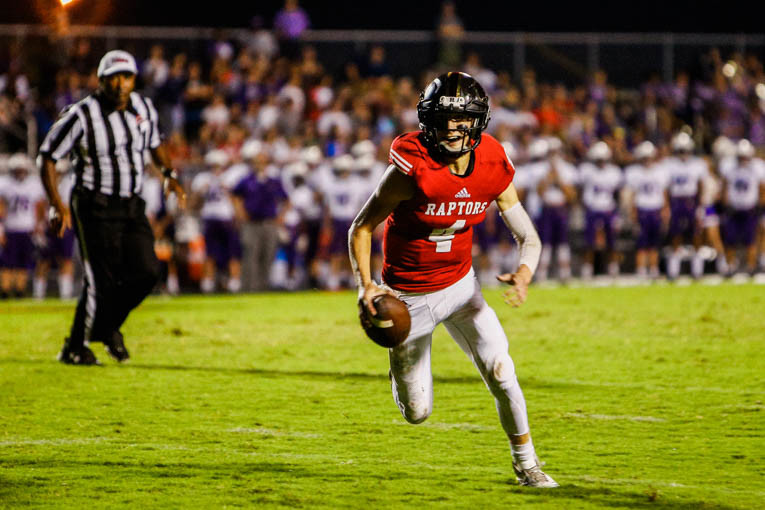 STORY BY KEVIN WARNER | PHOTO BY DEB SCALLY 
The 2019 Ravenwood High School football team feels like it has some unfinished business to take care of after a loss in the TSSAA 6A semifinals last season.
Ravenwood won an impressive 11 games on the season and came a game short of Cookville, but the highly talented Raptors want more this season. Head coach Matt Daniels and some of his players talked about dealing with lofty expectations at the the Williamson County schools media event last month.
"Our internal expectations have not changed since I took over in 2017 and that is to win a state championship," Daniels said. "Ravenwood is a state championship program and were going to do everything in our power to do that."
Ravenwood has two state championship titles in its history, the latest coming in 2015.
Last year's team came up just short from reaching the final again, squandering a 24-10 halftime lead to 6A champion Whitehaven falling 43-24.
The 2019 team aims to not let a breakdown like the one last season happen again. They have adopted the motto '24 More' in reference to finishing the last 24 minutes of games (a half).
Senior quarterback Brian Garcia looks ready to help them do that as he enters his third season as the Raptors signal caller.
"Going into the third year it's comforting … It's been pretty similar, so I feel like I have a very good idea of what will be open and what won't," Garcia said.
Garcia boasts several weapons including senior wide receiver and Rice University commit Andrew Mason. Daniels said Mason recently turned in 4.39 40-yard dash time at a Duke University camp over the summer and that they could move them around even more than in years past.
Senior offensive lineman Graham Barton won't be easy for defenses to move around this year. The highly touted offensive lineman committed to Duke University.  Offense of lineman/defensive lineman Luke Shouse, a Ole Miss commit, will also be a force on the line.
Talented tight end and four-star recruit Jake Briningstool will also be a big contributor for the Raptors. He ranks as the No. 9 overall tight end in the nation by 24/7 Sports. He also recently picked up a scholarship offer from Louisiana State University and has offers from elite schools like Clemson, Alabama, Georgia and Tennessee.
On defense the Raptors return one of the best linebacking corps in the state. Returning county defensive player of the year Brian Rice leads the group. Right, another three-year starter, should have a big season to close out his career. He joins fellow senior linebacker Avery Miller as one of the six team captains.
Rice and the defense also got assured major help this season, as senior outside linebacker/defensive end Reggie Grimes II was ruled eligible for the season by the TSSAA on Friday.
Grimes is viewed as the number one overall player in the state of Tennessee by major recruiting services and will wind up playing at a a major program like Alabama or Tennessee.
Grimes' father a former University of Alabama and NFL player will take over as the team's defensive coordinator.
Richland commit Jordan Smith adds to the dangerous linebacking core, and defensive back Shane Craig poses danger in the secondary.
Ravenwood also has one of the top kickers around in Luke Akers. The former soccer player only started playing football about 14 months ago. He already committed to UCLA to continue his football career next season.
The Raptors come into 2019 with loads of promise and talent, the senior leadership on this team is not afraid of the challenge and looks to approach this season game by game. The seniors called a meeting this summer to talk about outside distractions and ignoring the hype of the upcoming season.
"What are we going to do today to get better and only focus on that day and go day by day," Barton said. "Were not worried about December right now, were not worried about playoffs, we're worried about week one … We're going to try to keep that mindset all year and stay levelheaded."
Ravenwood will soon take the first step when it hosts 6A foe Centennial High School at 7 p.m. on Friday.