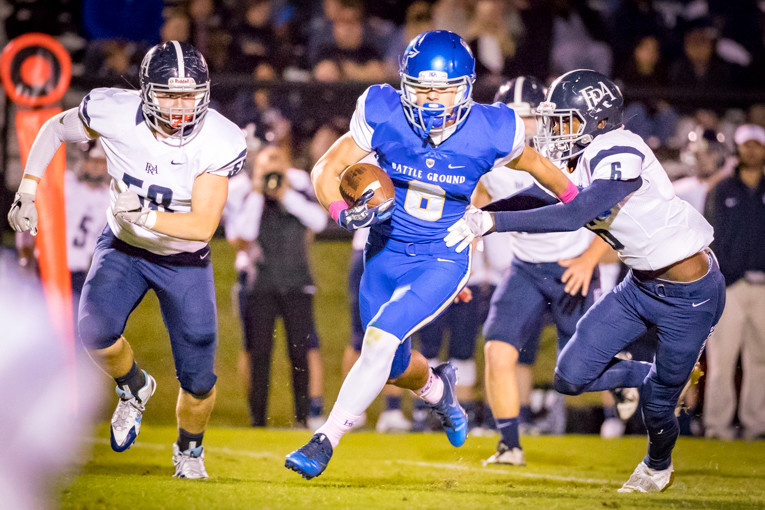 STORY BY KEVIN WARNER | PHOTO BY ANDY COLLIGNON 
Franklin High School (1-0) 35 at Siegel High School (0-1) 15
The Franklin Rebels open the 2019 season in dominating fashion Friday night.
The defense got things going when Journey Keen force a fumble, which Wyatt Harnage gobbled it up and put the Rebels up 7-0 early.
From there it was the Guy Lipscomb show. The senior wide receiver turned quarterback scored three rushing touchdowns on the night for a total of 89 yards. Lipscomb also went 9-14 or 50 yards through the air.
Running back Greyson Bruce tallied 108 yards and 17 attempts in the backfield for Franklin. The Rebels defense also forced three turnovers, which stymied any threat from Siegel on the night. Sadler Deming led the way with six solo tackles.
The rebels will host Riverdale high school next Friday at 7p.m.
Battle Ground Academy (1-0) 48 McGavock High School (0-1) 21
The Wildcats captured their first win of the season and the first to win for new head coach Jonas Rodriguez.
BGA controlled much of the game after reeling off 20 consecutive points, including a blocked punt for a touchdown, to going to halftime 34-7 lead.
Quarterback Nick Septimphelter hooked up with wide receiver, and Northwestern commit, Garrett Hollis Jr. twice on the night.
The Wildcats will face Father Ryan on the road next week.
Franklin Road Academy 30 (1-0) Davidson Academy (0-1) 6
The FRA Panthers went on the road and jumped out to a 10-0 lead over Davidson Academy at halftime and never relinquished the lead.
They got the scoring started when quarterback Sean Casey connected with Kingston Gardener on a 51-yard touchdown strike.
Running back Jeffrey Vercher answered Davidson Academy's lone score in the third quarter with a 1-yard touchdown run.
Later Jackson Chummiskey took an interception 74 yards to the house to put his team up 24-6 and seal the game for the Panthers.
FRA will host Stratford High School in his first home game of the season next Friday.
 Nolensville High School (1-0) 63 Antioch High School (0-1) 6
The Nolensville Knights went on the road and throttled Antioch High School Friday night, mostly thanks to junior Ryder Galardi at quarterback.
Galardi threw four touchdowns on the on the night, with two going to wide receiver/safety Tim Coutras. The senior athlete and Liberty University commit also snagged an interception, which led a score by running back Ryan Pistulka.
Galardi also found freshman wide receiver/running back Samson Johnson his first touchdown as a Knight. Johnson would score another touchdown late in the second half.
Nolensville looks to continue this offensive onslaught next week when they host Watertown High School.
Christ Presbyterian Academy (0-1) 6 Evangelical Christian School (1-0) 29
After a stellar 2018 campaign, 2019 did not start well for the CPA Lions in a loss to ECS.
It will look to bounce back when they host Independence High School. Both teams will be hungry for their first win of the season.
The game begins at 7 p.m.
Grace Christian Academy (0-1) 3 Zion Christian Academy (1-0) 47
GCA Is opening gaming in Zion Christian close early. The end of the first quarter only saw them down 14-3.
Over the next three quarters, Zion Christian scored 33 unanswered points to put away the Lions in week one.
GCA looks to its first win when it hosts Columbia Academy next week.