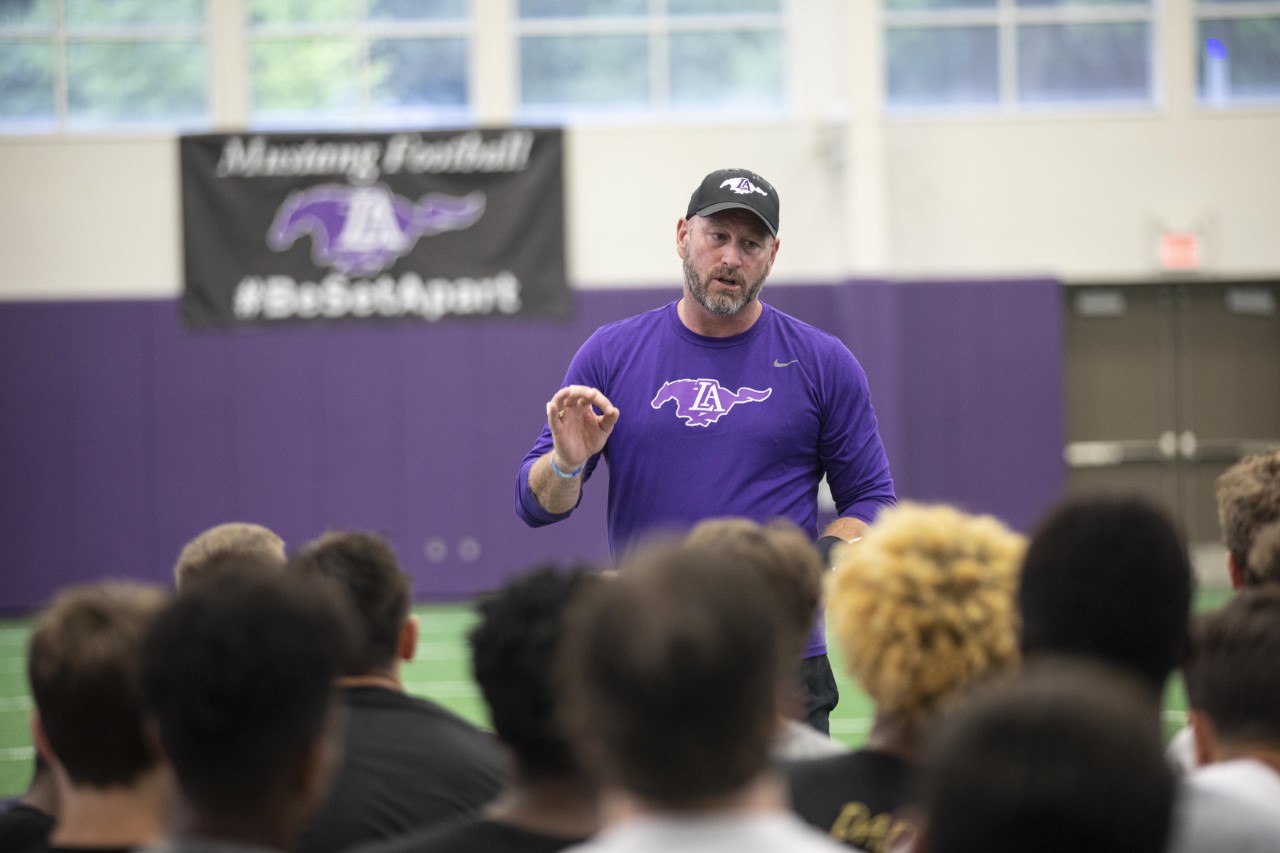 By GRANT BRICKER 
The winds of change were blowing at Lipscomb Academy Friday night.
Former ESPN Analyst and NFL quarterback Trent Dilfer started off his high school football coaching career with the LA Mustangs against Glencliff.
To say that this game was a blowout would be an understatement, as Dilfer's team was victorious, 66-8.
It all began with Lipscomb Academy taking the opening kick for a touchdown.
The first quarter was dominated by the Mustangs, as the seven-point-lead slowly became a 49-point shutout before the quarter had even ended. This was done in part by stellar performances from both the offense and defense.
One reason for that offensive success is the performance by Sophomore Jaden Lyles. Lyles put up 102 rushing yards from just three carries and a touchdown on an incredible 85-yard run.
"It felt pretty good to get a win after coming off of a losing season last year," Lyles said. "It was good start off with a win to give us some confidence."
Another impressive performance was Kyle and Jake McNamara. The brothers combined for a whopping 234 total yards. Kyle took a punt return back for a 50-yard touchdown, while quarterback Jake had a perfect completion percentage as he went one for one with 78 passing yards and a touchdown.
Lipscomb Academy had plenty of control during the game despite its six and a half minutes of possession. Glencliff turned the ball over a total of three times. Once Glencliff had a firmer grasp of its gameplan, the game was already out of reach.
Dilfer had a pretty impressive first win as a coach, but he made sure to talk about how the culture change was a group effort.
"I'm more proud of what these boys have accomplished in the last seven months that we've been here," Dilfer said. "Their parents have invested so much, this community has invested so much in this team. I've had my wins and losses and all that stuff, I didn't want to make tonight about wins. I wanted to make tonight about the last seven months and what it has taken to change the culture."
Dilfer played most of his NFL career with the Tampa Bay Buccaneers and Seattle Seahawks, however the one that he is the most remembered for is his part with the Baltimore Ravens and winning a Super Bowl.
The coach said that he believes that one of the biggest differences between the NFL and the high school is amount of control.
"You have very little control," Dilfer said. "I feel like I have nothing to do except manage the roster and be a good communicator on the sidelines. You trust just that you put the work in and that you've done a good preparing them and that they play and coach to the fullest of their abilities."
When it came to what Dilfer gave them the most success tonight on the field he emphasized the importance of preparation.
"We had a really good week of preparation," Dilfer said. "We practiced very hard, very physical. I think as a group we became more courageous."
Dilfer is off in the right direction with a win in his first game as the Mustangs face Pope John Paul II at home next Friday at 7 p.m.
Photo from school.