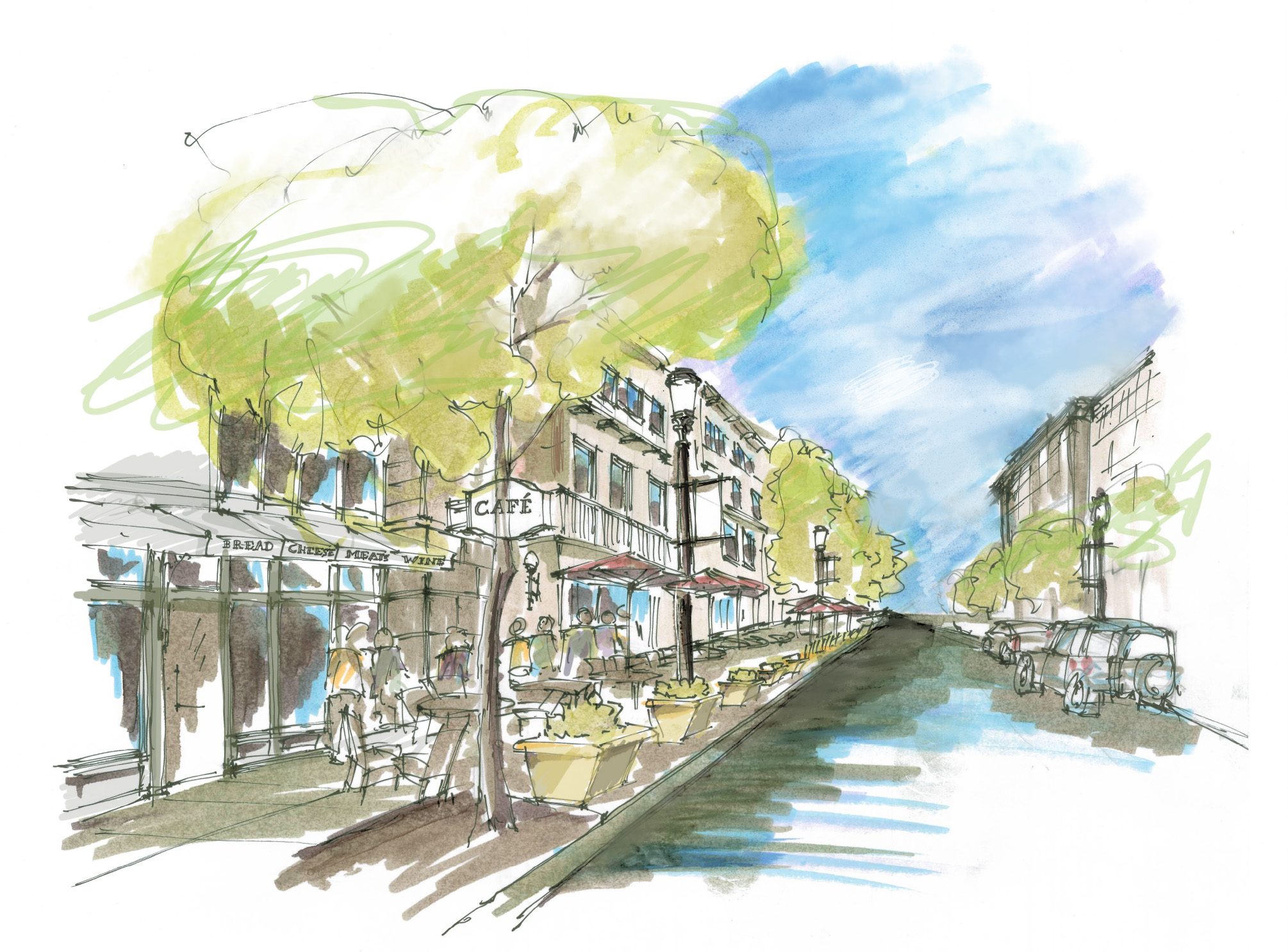 Southwalk drawing courtesy of the Town of Nolensville
By RACHAEL LONG
After a lengthy discussion, the Nolensville Board of Mayor and Aldermen passed the Southwalk master plan on first reading Thursday. 
The inspiration for Southwalk came from places in Europe, namely Italy, where Chilvers said he and his wife have enjoyed visiting. He wants to bring "a little bit of that charm" to Nolensville with a mixed-use development which includes "an old school main street," a mixture of late 19th century and modern architecture, and space for retail, restaurants, offices and even residential use.
The total proposed development — which can be viewed here —would encompass 1,179,856 square-feet or more than 27 acres.
Ideas for the common-area plaza space include community events, live music and even perhaps a seasonal ice-skating rink.
Developer Matthew Chilvers said the idea of Southwalk is to offer a master planned approach to retail, office and residential space in place of more "fragmented strip centers."
"I think that, over time, if we continue to have fragmented development, we're going to be disappointed as they age and as our town matures further," Chilvers said. 
During a discussion lasting more than an hour and 20 minutes Thursday night, aldermen expressed their concerns surrounding the project. 
Both Aldermen Tommy Dugger and Larry Felts raised concerns about how the development might affect water quality. To that end, Felts was primarily concerned with the neighboring residential properties. 
"I've got some concerns about how you're going to control that much water coming off that hillside, and if you've done anything or talked with anybody across the street or looked to see what could be done," Felts said. "A project this size, with that much asphalt, I think there needs to be a whole lot of thought into this."
Project engineer Michael Dewey of Dewey Engineering responded to Felts' concerns. 
"I understand that there's water coming from Nolensville Road, but [on] this project, we cannot allow more water to leave our site post-development than what's leaving pre-development," Dewey said. 
Felts said he had spent considerable time going over the proposed plan and had a few other concerns. Some of those concerns had to do with amenities that would be available to residents like green space or a playground. 
"Some of these rooms you've got in here or flats are pretty good sized," Felts said. "A family could live in them fairly easily, like the town homes. There's nothing in this that would stop them from bringing kids into it. And I got to thinking about 16 floors of flats sitting over residential and business [space]. Asphalt jungle, traffic and kids in it, what the amenities were…and how the kids would be [taken] care of. And it just doesn't sit."
Felts said he "wouldn't have any problems" with the proposed development if it were strictly commercial. 
"My own feelings [are that] you're cramming too many people into this spot," Felts said. 
Chilvers noted that there would be areas dedicated to amenities like a clubhouse and fitness facility, as well as others that had not yet been determined. 
"At this stage — because we're approving a concept plan here — all the nitty-gritty details of those amenities are not included," Chilvers said. "That wouldn't be appropriate at this stage of development."
He also noted that the residential component to development was a different approach than what Nolensville has seen so far. Adding the residential component that Southwalk proposes, Chilvers said, allows for a unified approach to development, rather than a "hodgepodge" approach. 
One way or another, Chilvers says the property will become some kind of development. 
"It isn't a question of whether the property is going to develop or not," Chilvers said. "It's really a matter of how. We're really not saying it's this or a forest. It's zoned already [as] commercial."
Alderman Derek Adams jumped in to say that he didn't think the board should be concerned about who future tenants of Southwalk might be. 
"The type of people who are going to come here are adults making their own decisions," Adams said. "If they have a young baby or a couple small kids, that was their choice and that's the style of living that they choose.
"I love it, I think the vision is incredible," Adams said. "It gives us another area to stay in Nolensville. Man, I wish I never had to leave Nolensville, but not everything is here."
The project's density calculation of 9.6 also drew some conversation among board members. Adams asked his colleagues to explain what about the density they didn't like. 
"All I can tell you is when I moved out here, I liked the fact that we had no apartments or no duplexes or triplexes," Mayor Jimmy Alexander said. "And I think the fact [is] that most of the people here liked it."
Chilvers responded with the idea that Southwalk is a way to look forward at Nolensville's future, rather than back at its past. 
"We have a variety of people here now, Mayor Alexander," Chilvers said. "We have people from Nolensville past…however, time marches on…We're on the wave of growth of greater Nashville, which is growing as a major city in our nation…If we don't think about Nolensville's future and we keep trying to do everything like Nolensville's past, we're gonna get a mixed up Nolensville that ends up looking like Antioch."
When Adams made a motion to approve the plan, most on the board agreed that the item needed to move forward to the public hearing stage in order to give the public a chance to comment for or against the plan. 
Despite their concerns, most of his colleagues agreed. 
"I won't say I'm totally sold on it, but we'll certainly take it to public hearing and then come back in second reading and hash out some more," Dugger said. 
Felts agreed with Dugger, noting that he wanted to hear the feedback from residents who had not yet had a chance to speak. 
Newly appointed Alderwoman Wendy Cook-Mucci said she wanted to hear more community input.
"We need to do our best to make sure that everyone knows what Southwalk is and that we go get as many people in the community [and] their thoughts…I need to before I make a vote on this," Cook-Mucci said. 
On this point Chilvers was in full agreement.
"I think — for the people who are seeing this right now — that we encourage the entire community, that this is a time to speak up," Chilvers agreed. "Let's find out what the community really wants."
The vote to approve the master concept plan on first reading passed 4-1. Only Alexander voted against the plan. 
A public hearing for Southwalk will take place at the next Board of Mayor and Aldermen meeting at 7 p.m. on Aug. 1 at Town Hall.