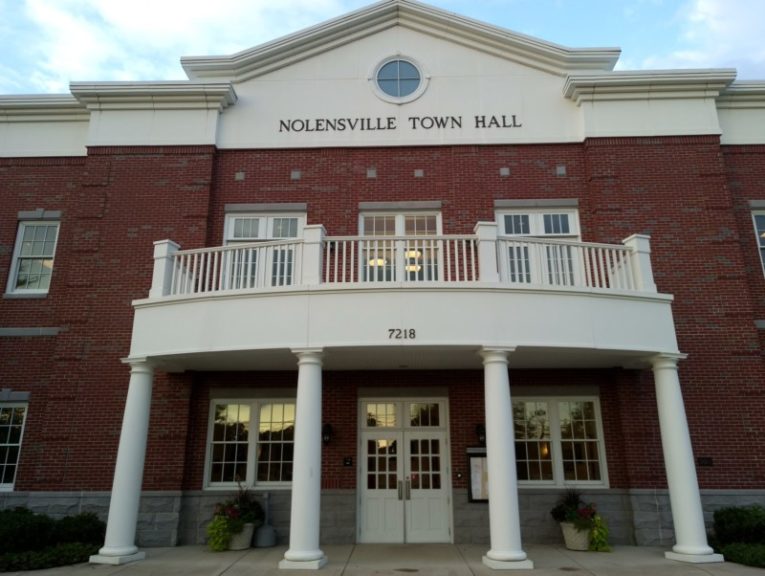 By LEN SERAFINO
Nolensville, already a rapidly growing town, could potentially double its land area and population if it annexed all of its Urban Growth Boundary.
Urban Growth Boundaries (UGB) were established subsequent to legislation passed in 1998, to allow cities in non-metropolitan counties to expand by annexing unincorporated land within their boundaries.
During a discussion about Nolensville's future, Jimmy Alexander, the town's mayor since 2010, stated, "We aren't currently working to annex any areas, but if a community within our boundary is interested in annexation, we certainly would consider it."
The mayor went on to say, "Before we annex an area, we have to be prepared to provide adequate police and fire safety for starters. While Nolensville needs to grow its tax base to thrive, we also need to manage our growth and preserve our small-town charm even as we continue to grow."
Over the last few years, the town has worked to create Nolensville Market Square, a mixed-use residential and commercial development that could also serve as a town center, not unlike what Franklin and Brentwood residents enjoy.
"The developer is still reviewing its options, but the plan expires soon," the mayor said. However, the mayor is convinced the developer will ask for an extension.
South Walk, another development under consideration is making more progress. With 168 condos and 50 townhouses, plus 260,000 square feet for retail and office use, the project has already gone through a first reading at the Board of Mayor and Alderman (BOMA) meeting last month and a public hearing earlier this month. The next step is a second reading on the first Thursday of September. If BOMA approves the project, the developer can begin construction.
When asked about the possibility of a grocery store coming to Nolensville, Alexander said, "There are ongoing negotiations that will bring a major grocery store chain to the south end of the city."
Big box retail is another matter, however. "We have had some interest, of course, but nothing currently. It may be harder now with the rapid growth of online shopping."
Asked to describe Nolensville's biggest challenges, the mayor didn't hesitate.
"Infrastructure is our biggest challenge right now. We have to have the funds to do the work. We are essentially debt free, so we are keeping up at the moment."
He went on to talk about the bypass he's proposed that would make it possible for cars to get around the downtown historic district.
"I'm trying to get the state to bump the project up on their priority list. We've managed to get the right of way to allow at least some of the road to be built," he added. "The bypass would run from Sunset Road to the area beyond the town's historic section. I can't promise it will happen in the near future."
One issue that might impede the town's growth is traffic. According to Bert Kuyrkendall, interim town planner, "Traffic can be improved, through intersection improvement, adding turn lanes, traffic signals and roundabouts."
What might Nolensville look like in five years?
"We'll continue to grow. Currently we have about 11,000 residents. That number should increase to about 15,000 in five years," Alexander said. "We'll have more retail, including a grocery store and possibly another school. Nolensville will continue to be a great place to live. One thing that's already happening, is more neighborhoods connecting through walking and bicycle paths."
As an example, the mayor pointed to a path that runs between the Sherwood Green development to Silver Stream.
"It runs right past the high school and middle school," he noted. "Nolensville's Trees and Trails committee is leading that effort."
Kuyrkendall added, "We're trying to build a community where children can walk or bike to school, which isn't all that common anymore."
"I assure you we want to see both residential and commercial growth in Nolensville. One thing that many residents may not realize is that prospective businesses often insist on keeping talks with us private," Alexander said. "There are some good things in the works I'm not at liberty to discuss."
Len Serafino is a local author who lives in Nolensville. You can find his work at www.lenserafino.com