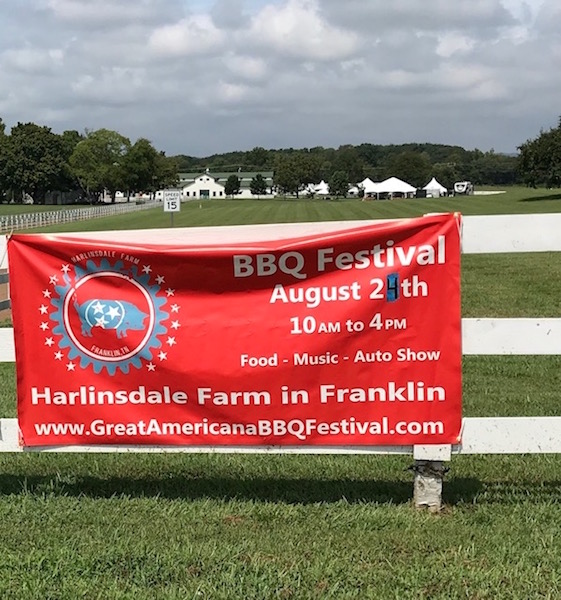 PHOTO: Skies are expected to be mostly cloudy with peeks of sun on Saturday, good news for those taking part in the Great Americana Barbecue Festival and other outdoor activities across Williamson County. / Photo by John McBryde
By JOHN McBRYDE
If the forecast holds true, the weather for Saturday's Great Americana Barbecue Festival at the Park at Harlinsdale Farm should be just right for the thousands expected to attend.
In other words, the meats will be moist, but they likely won't be wet.
Storm chances increase Sunday through Tuesday, but Saturday is expected to be mostly dry with a small chance of a popup shower at most — good news not only for the Barbecue Festival but all the other outdoor events happening in Franklin and across Williamson County this weekend.
"We might have just a little bit of a break on Saturday with maybe a stray shower in the afternoon and only a 20 percent chance of that," Josh Barnwell, a meteorologist in the Nashville office of the National Weather Service, said. "It looks like it will be mostly cloudy Saturday, with peeks of the sun, and highs in the mid-80s. It will be definitely cooler than what we've seen the past couple of weeks. It's been incredibly hot here."
Cooler temperatures should hold for the next few days, Barnwell said, with highs in the low to mid 80s Sunday and Monday and perhaps reaching into the high 80s by Tuesday.
"The cloud cover will be blocking the sun, and that will help keep the temperatures down," Barnwell said. "Hopefully those lower temperatures stick around because we've all gotten tired of those mid-90s."
Rain chances increase Sunday afternoon through Tuesday, generally between 50-60 percent.
"Most of the rain chances are south of Williamson County, toward the border of Alabama," Barnwell explained. "Still, with summertime, there's always the chance of those stray pop-up showers that are typical, but it looks more likely on Sunday afternoon through Tuesday."